Bulk Sludge Waste Haulage
Nationwide collection and Disposal of bulk sewage waste. NWCPO Nationwide Permit
Bulk Sludge Waste Haulage – What we offer
Experience In Liquid Sludge, Industrial, And Water Utility Waste
Our Customers
Currently we provide sewerage waste collections for example to County Councils, waste water treatment companies, domestic homes and commercial businesses. Prior to the commencement of any job, we carry out a risk assessment and method statement relating to the site. As a result of this assessment we select the vehicle suitable for our customers' requirements.
Our Fleet
We at CES Environmental Services Ltd continue to build our vacuum tanker fleet year on year. As such we added a new vacuum tanker with medium volume jetting\wash down facility. Importantly this new truck is fitted out with rear steer axel to allow entry to even the most difficult sites. Additionally we also carry on board 60 meters of hose at all times. We supply more hose on request.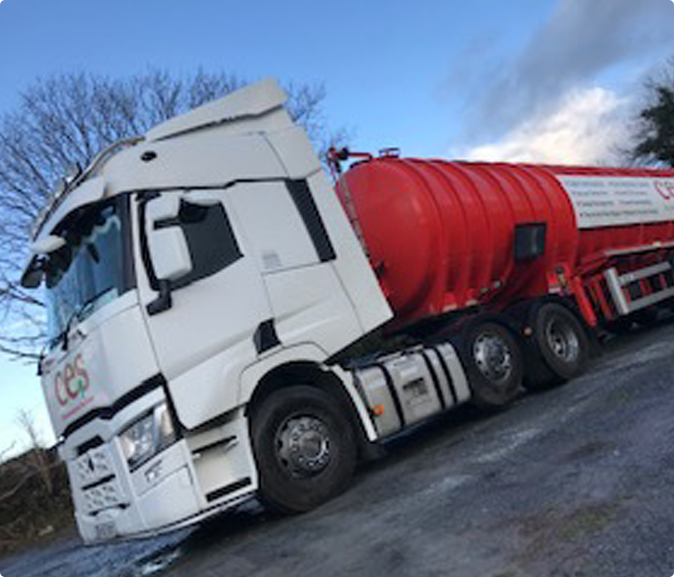 Bulk Sludge Waste Haulage /Vacuum Tanker Hire
Depending on the job requirement for bulk sludge waste haulage, we allocate a suitable truck. For septic tank emptying we use one of our vacuum trucks with wash down.
They have 16000Litre capacity sludge and 1000 litre water for drain cleaning and washing. Additionally our Vacuum Trucks carry a push rod CCTV unit.
This allows us to inspect and record any defects on 100mm to 225mm pipework if necessary. Our Vacuum Truck has a large 1200cfm vacuum pump. We use it for deep champers, we utilise this truck for emptying and cleaning of pump stations.
Consequently for large pumping stations we use one of our larger jet vacuum trucks. This enables us to vacuum heavy sludge/silted tanks and chambers, delivering up to 3800cfm of vacuum. Also our large vacuum trucks are capable of cleaning the most difficult of tanks. For this reason, all trucks have onboard water for wash-down and cleaning of tanks.
Articulated Tankers
Our articulated tankers have the capacity to deal with high volume transfer of liquid waste. Consequently this allows us to be as efficient as possible in operational sites to handle high volumes of flow.
Tanker payload capacities range from 4,500 to 33,000 litres allowing excellent access to carrying capacity ratios. Our articulated units are legally plated to gross 46 ton which results in full loads to be transported at all times.
Furthermore, to increase accessibility we have rear lifting/steering axles CES Environmental Services articulated tankers are used in tandem with our large jet vacuum trucks so the sludge is being vacuumed through the jet vacuum truck into the articulated tanker. Also our articulated tanker has its own vacuum pump allowing it to fill on its own where necessary Another key point is our fleet is supported by a fully trained team of drivers who offer a direct, environmentally friendly and cost effective methods of dealing with liquid waste.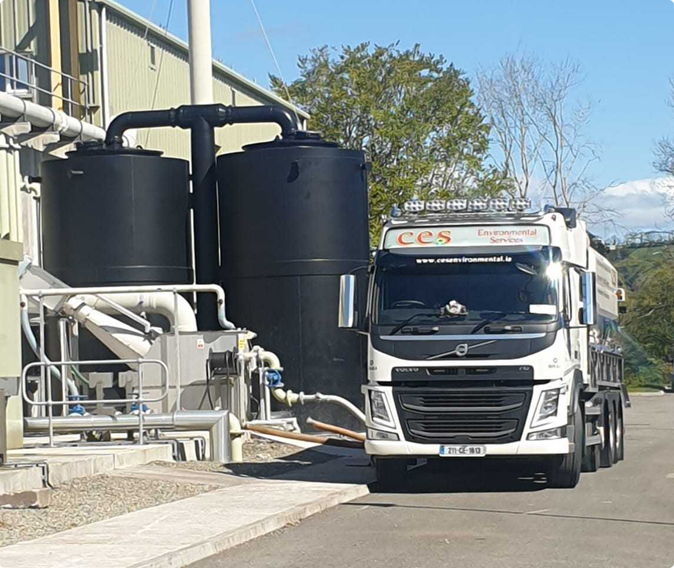 Vacuum Tanker Hire Regulations
We are licensed to dispose of at a number of licensed facilities throughout Ireland. We conduct all our activities in accordance with Waste Management Regulations 1994 and both the local authorities and environmental agencies monitor these regulations are adhered to.
Our Staff
CES Environmental Services Ltd staff comprise of highly qualified and motivated individuals. We aim to complete even the most problematic job within the allocated time and always present in a friendly professional manner. Our staff training includes Safe pass, CSCS, Confined space, and Manual handling. We are constantly investing in upskilling. This means we can deliver you the best service possible and insure the health and safety of our employees.