CCTV Drain And Sewer Surveying
CCTV drainage surveys using inspection cameras of drainage and sewers to check condition of pipes. Professional Wincan drain survey reports supplied
Top-Quality CCTV Sewer Inspection Services at CES Environmental Services
At CES Environmental, we specialise in state-of-the-art CCTV sewer inspection services, delivering peace of mind and efficient solutions to residential and commercial clients across Ireland.
Dependable CCTV Sewer Inspection Companies
CES Environmental Services are proud to be among the top-rated CCTV sewer inspection companies in Ireland. Our team are trained to use high-definition drain cameras for a detailed inspection of your sewer system. Giving you a clear, accurate assessment of any potential issues and cost effective solutions, including no dig drain repair.
Assess the condition of your drains and identify what is causing your drainage problems.
Using the most up to date drain inspection equipment, CES Environment can find structural issues (such as damaged joints, cracks, factures, breaks, deformities, collapses or points of failure) or service issues (like roots, obstruction, scale, or debris).
Once the problem is identified, we'll advise the best type of repair.
If your drains are constantly clogging, there may be a larger issue that has to be fixed.We provide not only the drain CCTV survey, but a complete drainage service from drain cleaning, drain repair and drain relining.
A CCTV drain survey can quickly and easily evaluate your drains' condition and spot any concerns including broken joints, cracks, deformities, clogs, or difficulties with pipe gradient (sagging or backfalls).
Once the issue has been identified, we will recommend the finest sort of repair for your house that our expert drain repair teams can execute.
Your technician will advise a drainage system inspection if you are thinking of buying real estate.
The CCTV survey is the only means to completely examine the drainage system's condition because the majority of it is concealed beneath the surface and out of sight.
To avoid unpleasant and costly surprises later on, we highly recommend having a comprehensive house survey done before buying any property.
Comprehensive CCTV Sewer Survey
Our comprehensive CCTV sewer survey approach involves checking the entire sewer system from manhole to manhole. With this approach, we ensure that even the smallest drainage issues are detected and resolved before they develop into significant problems.
CCTV Drain Inspection Process
CCTV Survey Reporting Software
CES are approved licence holders of Wincan V8. This software offers the core functionality therefore you can collect pipe inspection data, organise it into databases and generate inspection reports. These reports can graphically display the pipe and its defects. Wincan V8 also allows us to manage data in the office post-inspection, share it with clients using free viewer software, and export it in a variety of formats.
Various Report templates present a concise summary of asset condition and can be fully customised to individual needs. We detail the size, length diameter of the pipe and grade and highlight any issues that the survey shows. All our reports are prepared by a qualified Engineer who is at hand to answer any questions our client may have
CES CCTV Survey and inspection Unit
Drain CCTV survey being carried out on Main Road
CES provide Nationwide Drain and Sewer Surveying,Testing and rehabilitation
CES Environmental Services Ltd use state of the art CCTV equipment, our pushrod Troglotech T804 and mini-cam Solo Pro Pushrod CCTV Camera are ideal in 100mm and 150mm pipe sizes. Our IPEK mainline CCTV units are custom fitted to our drain survey Mobile Units, which is remotely controlled to inspect up to 300 metres of 150mm to 1200mm pipe from one access point
Our cameras use a pan and tilt facility so as to inspect the pipe at every angle. We have CCTV Cameras to fit various diameters, lengths and depths of pipe.
Benefits Of CCTV Drain Surveys
A CCTV drain study may be all you need to observe the issue in vivid technicolor if you're worried about a recurrent problem with your drains. It might be something totally unexpected; in the past, our CCTV cameras have uncovered tree roots, broken pipelines, and even the most unlikely obstructions, such misplaced mobile phones, kid's toys, or other household items.
A nationwide staff of qualified technicians work for CES Environmental. There is no need to be alarmed if your issue does necessitate a CCTV inspection because they all get quality training in accordance with internationally recognized standards and are perfectly ready to handle any situation, even though they operate in your neighborhood.
Types of Drain Issues :
Open Joints
Displaced Joints
Fractures
Breaks
Collapses
Deformations
Roots, debris and encrustations with in the pipe
We can from site contact our client if a major defect or unexpected results are discovered.
Drain CCTV survey in progress using CES Truck to jet lines in Front of Camera
If you would like to find out more about our CCTV Drain & Sewerage Surveying, or any other services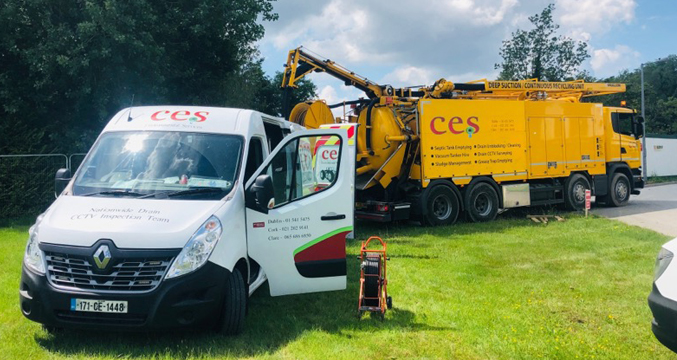 If you would like to find out more about our CCTV Drain & Sewerage Surveying, or any other services
Whether you need a CCTV sewer survey or a CCTV drain inspection, call us at CES Environmental Services today! As industry experts, we possess advanced equipment and extensive knowledge to carry out thorough sewer inspections.
CCTV drain and sewer surveys offer accurate information on the condition of drain and sewers.
Councils require CCTV drain surveys prior to taking housing estates in charge.
House a pre-purchase CCTV drain Survey are vital to ensure the working order of the drainage before signing contract.
CCTV Surveying of a property will eliminate the fear of potential problem which could be quite expensive to repair.
For commercial properties blocked drains and blocked toilets can affect productivity. In 90% of cases high pressure jetting will solve most blocked drain and toilets. Where a blockage persists CCTV drain and sewer inspections will quickly identify the location and extent of the problem. On completion of a CCTV Drain Survey proposal for the solution will be offered including the option for no dig repairs for drain repairs preventing the need to excavate.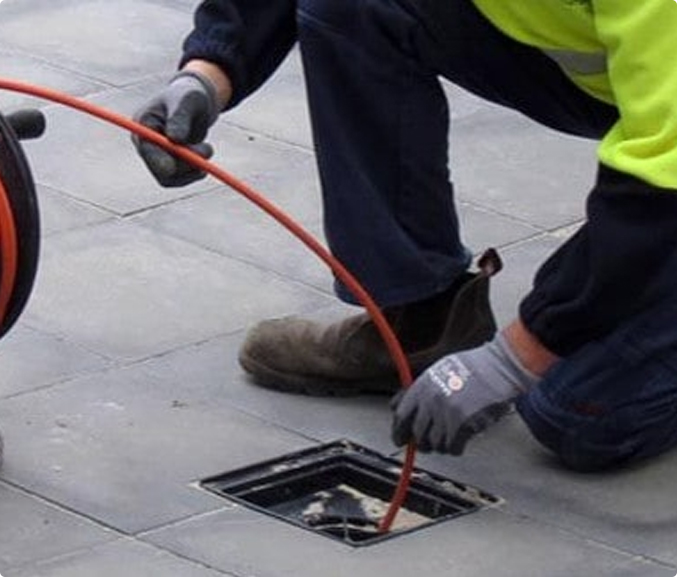 CCTV Camera Survey Areas Covered
Carlow
Cavan
Clare
Cork
Donegal
Dublin
Galway
Kerry
Kildare
Kilkenny
Laois
Leitrim
Limerick
Longford
Louth
Mayo
Meath
Monaghan
Offaly
Roscommon
Sligo
Tipperary
Waterford
Westmeath
Wexford
Wicklow
CCTV Camera Survey Areas Covered