CES offer Nationwide Vacuum tanker hire. We have experienced and professional staff and hold a Nationwide NWCPO permit
Vacuum Tanker Hire
Depending on your requirements we will allocate a suitable truck and driver from our fleet.
Vacuum Tanker Capability
16000 Litre of sludge capacity and 1000 Litre water for drain cleaning and washing.
All carry Push rod CCTV unit – this allows us to inspect and record any defects on 100mm and 225 mm pipework if necessary.
1200cfm vacuum pump ideal for deep chamber cleaning of pump stations.
All trucks have on board water for wash down and cleaning of tanks.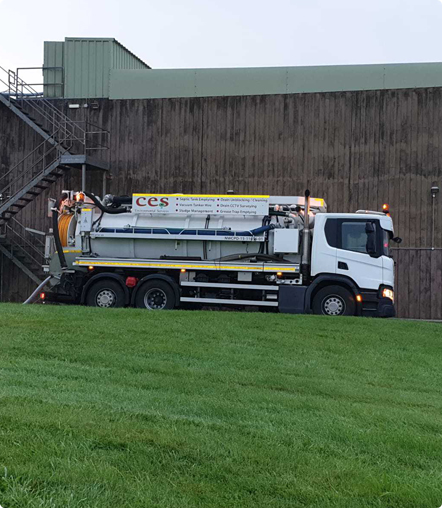 Articulated Tankers
Our articulated tankers have the capacity to deal with high volume transfer of liquid waste
This allows us to be as efficient as possible on operational sites to handle high volumes of flow.
Our articulated unites are legally pated to gross 46 ton which results in full loads being transported at all times.
Increased accessibility as we have rear lifting/steering axles.
Our Articulated tanker has its own vacuum pump allowing it to fill its own where necessary.
Our fleet is supported by a fully trained team of drivers who offer a direct, environmentally friendly and cost effective method of dealing with liquid waste.
Artic Vacuum Tanker Hire
Cleaning of Sewer Tanks
Flood Water Removal
Haulage from Sewage Treatment Plants
Haulage of Waste Water
Housing Estate Waste Water Haulage
Industrial Sludge Removal
Liquid Waste Haulage
Liquid Waste Removal
Mains Sewage Cleaning
Management of Sludge
Pumping Station Waste Water Haulage
Removal of Sewage
Sewage Haulage
Sewage Tank Hire
Sludge Haulage
Management of Sludge
Sludge Removal
Transfer and Removal of Sludge
Treatment Plant Emptying and Cleaning
Waste Transfer and Removal
Vacuum Tanker Hire
Waste Management
Waste Water Treatment work and Maintenance and Large Tank Cleaning