Septic Tank Emptying & Cleaning Clare
Need a septic tank emptying service and septic tank cleaning in Clare? Then get in contact with CES Environmental today.
Need to empty your septic tank or is your septic tank causing you problems? We are experts in cleaning, emptying, pumping and inspecting septic tanks in Clare. In fact, we've been based in Clare and providing environmental services for 30 years. We pride ourselves on our experience, speed, our ability to access hard to reach tanks, reliability and cost effectiveness.
What we offer
Experienced and knowledgeable staff
Large fleet of vehicles to ensure we use correct truck for your site
Fully permitted waste collection and disposal
Free inspection of tank
Group Discounts and returning customer discounts
What are the Symptoms of a Full Septic Tank
Slow Draining or backing up of Toilets, Sinks, Drains
Smell of sewage from tank or surrounding area
Percolation area water overflowing from tank
Ponding on percolation area
Nearby watercourses greyish slime growths· Foul Smell
How Do I Know If My Septic Tank Needs Cleaning?
Tanks usually need to be emptied or cleaned every 12 months (it depends on the number of people in the household and how big the tank is) but we find most need an empty around this time.
It is critical to keep your septic tank in good working order. Allowing your septic tank to back up diminishes its effectiveness, potentially necessitating additional repairs, which can be costly to repair or replace the septic tank.
A homeowner can be fined up to €5000 for failing to empty their septic tank, causing it to overflow into a water course or poisoning the ground surrounding it or a well from which people derive their drinking water.
7 signs your Septic Tank in Clare might need emptying
All homes without a direct connection to a Main Sewer have either a septic or Bio cycle tank to collect waste water. There are three main sections to a septic tank system. These are the tank, the peculation area and the soil. The system works as follows
Waste leaves the house through the pipe network to the septic tank.
The Waste stays here for around 24 hours, during which the solid waste sinks to the bottom of the tank.
The waste water flows slowly through to the perculation area.
The percolation area is made up of a system of pipes. These pipes are perforated and this allows the waste water to flow through.
The wastewater then goes through a gravel layer until it meets soil.
The soil organisms are the final stage of treatment for the waste water.
If the Waste is not removed every 12 to 18 Months the waste scum and waste water will over flow through the outlet pipe into the lawn and perculation area.
Septic tanks are designed to last decades if serviced regularly.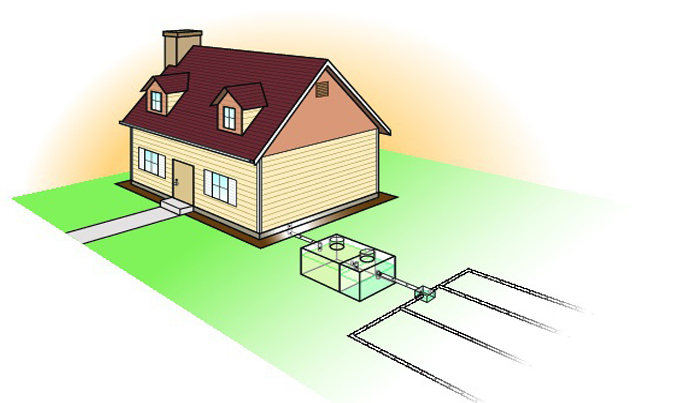 How often do I need to empty my septic tank?
A correctly maintained Septic Tank, Bio-Cycle requires little maintenance. A tank should be emptied every 12 to 18 Months. This depends of the following factors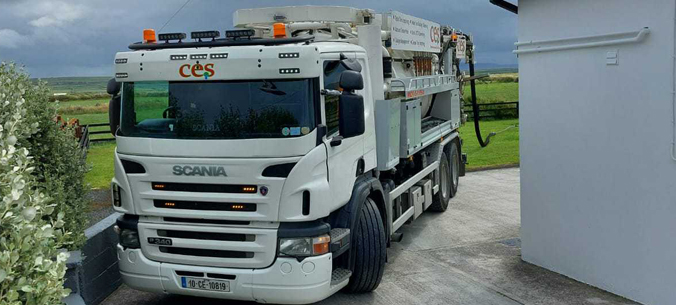 Number of people in the House
Size of Tank
Is water from down pipes running into tank?
A registration fee must be paid.
All new systems must be registered within 90 days of being connected.
Operate and maintain the system so it is fit for purpose and fully operational.
Ensure that the tank system cannot pollute the environment.
Sludge the system at regular intervals to ensure tank is working at its best.
Keep Waste disposal docket from tank emptying for 5 years as proof of correct disposal at time of inspection.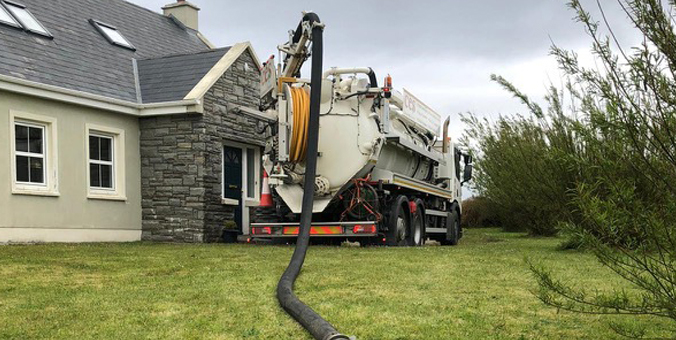 What is a Septic Inspection?
Inspections are carried out by Local authorities, such as Clare County Council. Inspections are being carried out to make sure that Domestic Wastewater Treatment Systems (DWWTSs), including septic tanks and treatment plants, do not pose a risk to human health or the environment. Owners of DWWTSs are obliged to properly operate and maintain their systems as required under the Water Services Act, 2007 and Water Services (Amendment) Act 2012. 
Your local authority will contact you prior to any inspection. If your system is working correctly there will be no further action. However if there is an issue you will be issued a notice from the local authority. This may require you to improve the maintenance of the system or upgrade system.
Areas CES Environmental Empty Tanks
ARDNACRUSHA
BALLYNACALLY
BALLYVAUGHAN
BAREFIELD
BODYKE
BRIDGETOWN
BROADFORD
BURREN
CARRIGAHOLT
CLARECASTLE
CONNOLLY
COORACLARE
CORAFIN
CRANNY
CRATLOE
CROSS
CRUSHEEN
DOOLIN
DOONBEG
ENNIS
ENNISTYMON
FANORE
FEAKLE
INAGH
KILBAHA
KILBANE
KILDYSART
KILFENORA
KILKEE
KILKISHEN
KILALOE
KILLANENA
KILMIHIL
KILMURRY-MCMAHON
KILRUSH
KNOCK
LABASHEEDA
LAHINCH
LISCANNOR
LISDOONVARNA
LISSYCASEY
MEELICK
MILTOWN MALBY
MOUNTSHANNON
MOYNOE
MULLAGH
NEWMARKET ON FERGUS
NEW QUAY
OBRIENS BRIDGE
OCALLAGHANS MILLS
OGONNELLOE
PARTEEN
QUILTY
QUINN
RUAN
SCARIFF
SHANNON
SIXMILEBRIDGE
SPANCEL HILL
SPAINISH POINT
TUAMGRANEY
TULLA
WHITEGATE